Are you feeling overwhelmed by the stresses of daily life? Do you long for a moment of peace, rejuvenation, and self-discovery? Look no further! Our Breathwork Retreat / Back to your inner nature retreat in the beautiful South of France is tailored to help you tap into the power of your breath and unlock your true potential.
What is breathwork?
What is Breathwork, you may ask? It is the practice of using conscious and connected breathing techniques to promote healing, release emotional blockages, and enhance self-awareness. With the guidance of our experienced facilitator Jeroen Rodenburg, you will engage in carefully crafted breathwork sessions that will take you on a journey of exploration and self-discovery.
Imagine yourself surrounded by breathtaking nature, with the gentle sounds of flowing water and singing birds. Our retreat camping, nestled amidst the scenic beauty of the South of France, provides the perfect setting for your transformational journey. During your stay, you will have the opportunity to connect with like-minded individuals who are on a similar path of personal growth and self-exploration.
The program of our breathwork retreat
Our program encompasses a variety of activities designed to nurture your mind, body, and spirit. Alongside breathwork sessions, you will also engage in yoga, fascia therapy, massage and meditation practice, indulge in delicious and nourishing organic meals, and take part in transformative workshops that will provide you with valuable tools for your personal development.
Activities included during our breathwork retreat
Yin Yoga & Fascia Therapy Workshop
Yin & Flow Yoga Classes
Rolfing Fascia Therapy session
Wim Hof Breathwork sessions
Ice baths
Dips in the river / swimming pool
Cacao Ceremony
Campfire
Ecstatic dance
Night butterfly
Stargazing at the campfire
Breakfast & dinner
Optional
SUP on the river (depends on the river)
Free time will be used to get to know the surrounding, get your Rolfing Fascia Therapy Session, SUP, Walks in nature alone or with the group, Lunch outdoor (Menu du Jour), Relaxation in nature.
Renew, heal and transformation
You will leave our breathwork retreat feeling renewed, revitalized, and equipped with powerful self-healing techniques that you can continue practicing in your everyday life. The benefits of breathwork are numerous, including increased energy levels, improved mental clarity, reduced stress and anxiety, and enhanced overall well-being.
Join us on this incredible journey of self-discovery and inner peace. Our Breathwork Retreat a.k.a. Back to your inner Nature Retreat in the South of France awaits you, ready to guide you towards a life filled with vitality and serenity. Don't miss out on this life-changing opportunity.
Teachers during the Breathwork Retreat
Yin Yoga & Fascia Therapy with Joyce
In the past years, I, Joyce, guided many people to deep relaxation with yin yoga and fascia therapy. Individuals, yoga teachers, breathwork coaches and several other body workers. Since a year I live in the South of France and I am happy to invite people to meet their inner nature in nature!
As a Yin Yoga Teacher in the basis, I love to guide people to their yin energy. The energy where they find themselves in Stillness. The combination of Yin Yoga and Fascia Therapy with Massage balls is magic. People can go deeper in themselves in postures. Chronic pain and emotional Blockages will be released and Stillness will guide them to themselves. In the session, the nervus vagus and the psoas will be stimulated.
Learning to people about Chinese Medicine, the meridians and fascia structure is one of my deepest passions. It is bringing Science together with Chinese Medicine. During my workshop, we will explore the structure of your body, how you can relax your fascia, muscles and joints with yin poses in combination with fascia balls, and we will see how you arrive at the retreat. This will be important to see what your focus is for the Rolfing Fascia Therapy session with John.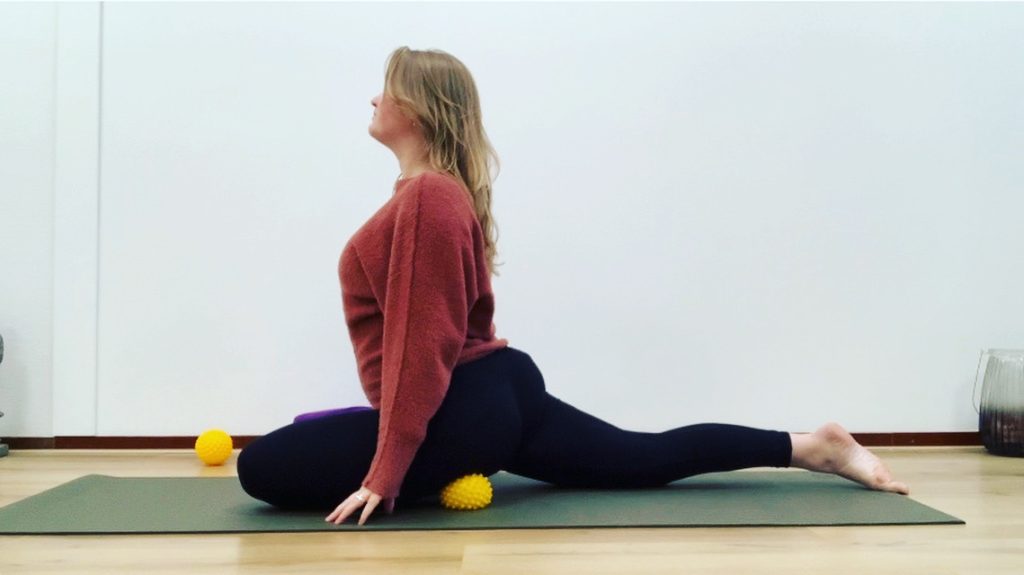 Rolfing Fascia Therapy session with John
Your Rolfing Fascia Therapy session will be tuned to your inner nature retreat themes and intentions. As one of the three teachers you have at your disposal for this week/retreat, I will focus on the physical possibilities of your body in the context of the retreat, serving also as a doorway to perception, coordination and meaning. You can bring any issue to the table. A few examples as inspiration to formulate your desires could be:
Breathwork intensive, freeing the breath, freeing the fascial restrictions in diaphragm, thorax, shoulder girdle, hip girdle and all that's related and relevant for your breathing.
Deep dive into the psoas, freeing the psoas and the related structures at the core / centre of your body. Is your core, your centre from which you engage the world, your theme, then this deep dive might be for you.
Nervus vagus extensive, a session devoted to stimulation of the vagus nerve to improve emotional regulation and relaxation.
Wim Hof Breathwork Sessions and Ice Baths with Jeroen
Jeroen Rodenburg gives the Wim Hof ​​Breathwork Sessions and guides the Ice Baths during the retreat. Jeroen is a certified WHM Method Instructor and has personally experienced how his immune system and body changed positively through cold training. Do you want to be there and experience what cold training does for your immune system and mental health? Then read on…
Jeroen himself has Lyme disease. And has therefore experienced many vague complaints such as problems with his back and knees, migraine attacks, insomnia and chronic fatigue. These seemed to be mainly due to the busy period in the life of Jeroen and his family. The birth of their three children (born a short time apart) and the irregular working hours at the police were also seen as the cause of some of his complaints.
The search started back in 2004 when he was bitten by a tick during a training week for the riot police on the Veluwe in The Netherland. Jeroen then started to study the Wim Hof ​​Method. During the Poland Retreat on December 5, 2016, a switch came on top of the 1609-meter-high mountain Śnieżka in Poland.
Since then, he has continued to specialize, and he gives workshops to anyone who wants to learn more about this. He is very passionate about this method and is able to guide anyone in the ice bath. But even more important, during the breathing sessions.
Accommodation Camping Déjà vu!
The Retreat will be held on Camping Déjà vu in Montcabrier in the South of France in the department the Lot. Your stay will be in a shared safari tent with your own cabine or a private bell-tent. It is a magical place in nature where you can watch the stars in a clear sky. The Camping is located between the many vineyards of the Cahors region and of course the Lot river.
We are Maurice (40), Astrid (41), Yasmine (13), Fabienne (10)
and dog Jolie (2), formerly living in Swifterbant (Flevoland).
And now Camping Déjà Vu! From the first step on the campsite, we feel that this is a great place. A place that has been built with care and love and is now handed over to us with the same care and love. We want to continue this campsite together with you and let everyone enjoy this beautiful, spacious place. A place where old memories, of holidays from the past, are retrieved, and new memories are made. Wonderfully old-fashioned (&) cozy!
Options for booking your breathwork retreat half pension with breakfast & dinner
Price for your stay in a shared Safari tent with your own cabine: €945,- (16 spots)
Price for your stay in a private Bell tent requires an extra fee of €150,- = €1095,- (2 spots)
Price staying with your own tent €100,- discount = €845,-
Airport / Driving
The Airport of Bergerac is close by Montcabrier. From Rotterdam it is a 1,5 hour flight. You can come by yourself with a flight and rent a car or request a transfer for €150,- per person with your booking below. Another option is driving yourself from your country to Montcabrier.
Book via the form below & mention your stay and if you need transportation
We will send an invoice after we received your booking. Prices above are including VAT.
Once you have reserved and paid, it is not possible to cancel. We therefore recommend that you take out travel insurance. When booking a spot, you automatically agree to the terms and conditions of camping Déjà Vu.
Book your spot here for the breathwork retreat
Limited spots are available, so secure your place today. Reach out to us via email or phone to reserve your spot in this transformative retreat. We can't wait to welcome you to the serene surroundings of the South of France for an unforgettable experience.